Why Use Our Plumbing Company?
We offer professional and reliable plumbing services. Our main aim is to offer quick, efficient and effective plumbing solution to relieve you from plumbing problems related stress. We work closely with our clients to design and implement plumbing solutions that best suit their homes and budget. We offer complete support to the customers' right from the installation and maintenance to repairs and replacement. With the quality and support offered by us, we are sure that you will have a pleasant and stress-free experience.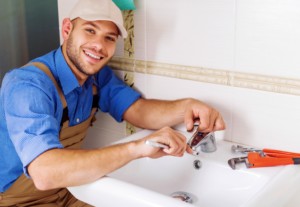 Professional & Reliable Plumbers
Our team carries out every job with due care in a professional manner. We are reputed for offering solutions that are practical and functional. Our team has experience and expertise in offering innovative solutions for your plumbing requirements. Our trained crew will attend to your plumbing problems quickly and fix them efficiently by finding appropriate solutions. Our plumbing crew constantly strives to deliver high-quality services and find the best products that suit your budget and lifestyle.
Attitude and Service
Whether it is a small job of fixing a leaking tap or installing a water heater, our services and dedication to the job remains professional. Whether the job is small or big our plumbing crew is equipped with the latest equipment and the most appropriate tools for all types of projects.
Emergency Plumbing
You never know when plumbing issues can crop up. Our emergency plumbing services come handy to you in such situations. Our experienced and well-trained plumbing staff will attend to resolve any plumbing issues quickly which include fixing broken pipes, leaking taps and unblocking drains. Our dedicated staff working around the clock always carries the necessary tools and equipment to solve any of your emergency drainage or burst water pipe issues. We know the area like the back of our hand and use this to our advantage to have a plumber at your front door in the quickest time possible.
General Plumbing
We quickly attend and address all types of general plumbing problems from leaking taps and broken pipes to installations and replacements. Our experienced and trained plumbing crew is committed to providing timely services. Our staff is equipped with the latest equipment and leak detection tools to quickly detect and fix the problem with minimal damage to the facilities. Many contractors in the area will ignore phone calls for small jobs, we however have a no job too small policy and will stop at nothing until you are satisfied. Even if you have such small issues as water hammer creating a headache whenever you open the laundry or bathroom taps. We have a solution to each and every water or gas-related problem you have, so give us a call today to have the best plumber treat you to the service you deserve.
Water Heaters
Our hot water experts are up to date with the latest training and work with all types of heating systems. Hot water heater installation services are frequently carried out by the crew here, as we offer complete repair and maintenance services on your heaters whenever they are needed. Our experts are trained to help you choose the correct size water heating system to suit your families individual needs, this is just one of the many reasons we have such a great reputation with the locals.
Unblocking Drains
Household drains get blocked frequently resulting in clogged toilets and sinks spreading unpleasant odor. We are reputed for unblocking drains. Most of the time we use our electric eel or water jetter to dislodge toilet tissue or tree roots that have become stuck in the system. Our tradesmen work hard to have your pipework draining freely in as little amount of time possible. We offer customer friendly services at reasonable prices. Our trained plumbing staffs have expertise in unblocking drains without causing any damage to the pipes or fittings.
Are you looking for a plumber? No worries – we service each and every one of your plumbing needs. More information about unclogging stuffed up pipes her @ What is hydro jetting? | Hydro Jetting
=