Learn The Top 5 Ways To Save Money On Plumbing Repairs
Most homeowners will be faced with a plumbing crisis at some point, whether it's an frustrating blocked toilet or a disastrous burst pipe. The high repair cost can be another blow on top of the inconvenience and damage caused by faulty waterworks. Luckily, there are things you can do to reduce the amount you pay out to plumbers. The top 5 ways to save money on plumbing repairs are listed below.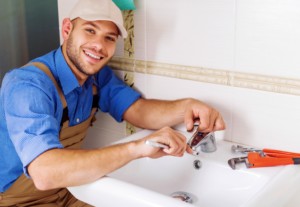 Prevent Common Problems
The best way to avoid having to pay a plumber is to prevent problems from occurring in the first place. Use mesh drain screens to prevent bathroom and kitchen drains from becoming clogged with food debris or hair. Avoid flushing bulky items down the toilet. Regularly drain your hot water heater. Be sure your water pipes are well insulated to avoid freezing.
Learn the Basics
The more you know about plumbing, the less you'll have to spend on plumbers. Watch a handy friend or relative make repairs or learn from a do-it-yourself manual. You will soon be able to tackle minor jobs on your own, you will become savvier about what your plumber is doing. You'll get a feel for how complicated a job is and how long it should take.
Ask for Referrals
Finding the most reasonably priced, reliable, trustworthy local plumber will save you money and hassle in the long run. Ask your neighbors for recommendations. They may also share their horror stories and tell you whom to avoid. Most towns or cities have local email groups and forums that make it easy to ask a wide range of people about their experiences with tradesmen.
Shop for Parts
Whether you need to replace a small piece of hardware, such as a shower head or a large fixture such as a toilet, consider buying it yourself. Plumbers tend to charge a standard retail price for parts. You can usually save by buying clearance-priced items and only paying a plumber for installation. Watch out for half-price sales at home improvement and hardware stores.
Compare Quotes
It's easy to avoid being overcharged for a job if you compare quotes from several plumbers in your area. Enter the keywords 'plumbing prices' and the name of your town in a search engine to find a price comparison website. You'll be able to specify the type of repair you require and instantly view a range of estimates.
If you are looking for a good Plumber, visit our website