Ever since man learned how to distribute water using ingenious methods, we have strived to cope with its various problems. Today, the goals remain the same.
As a Plumbing Contractor, we help owners of residential and commercial structures deal with their various plumbing needs in a more efficient and cost-effective manner using the best and latest plumbing technology.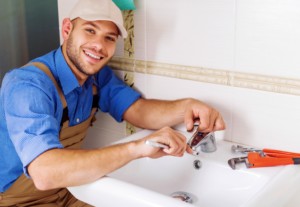 As a full-service plumbing contractor:
We provide you with high-quality services in installations, repairs, cleaning, piping, and maintenance.
We commit to serving our customers round the clock using a combination of experience and reasonable pricing, which allows you to save as much money as possible in resolving issues with your plumbing.
We leave you happy with some peace of mind knowing that the same plumbing issue gets resolved the soonest possible time and will not recur anytime soon.
Excellent Attitude of Service
We are proud of the core values that we have instilled in our professional plumbers and staff. We have worked hard to create an excellent service attitude where the customers' needs are given the highest priority.
We believe that we deliver the highest quality of service in the plumbing industry which many of our competitors find extremely hard to match. All of these begin from the moment that you place your call to our office.
We treat every call as a plumbing service emergency, that is why we strive to greet your call with a friendly voice. You will know that we understand your situation and that we intend to make you our priority.
We can even make an appointment that will be ideal for your schedule so that you do not have to be in a hurry to meet with us. This gives you ample time to decide when it would be best to do the plumbing repairs in your home.
The attitude of service extends to ensuring that we arrive at every scheduled appointment well ahead of time. We also make it a point to be always friendly and accommodating so that our customers would not feel that we are intruding on their privacy. Moreover, we will make sure that our customers fully understand the scope of work that needs to be done before we start anything. More on this website
So if you want excellent service and really professional plumbers, we are your best choice.
We Guarantee to Do it Right the First Time
We believe in doing it right every time. This is because we value the safety of your home as much as you do. This is a guarantee of excellent customer service. We do not agree that plumbing services begin the moment the tool begins to touch the pipe.
The reality is that plumbing services start at the very instant your call reaches our office. It is the same moment that you, as our customer get our undivided attention and commitment to deal with your plumbing issues the right way.
Regardless of whether you need help installing a water heater, finding a leak, or unclogging a drain, you can be sure that you will be satisfied with our services. Unlike other plumbing services, we define doing it right not just by the quality of our work, but also how our professional plumbers act while in your home or office.
You can be sure that we will treat every part of your property with the utmost respect, not just the area we work in. We redefine plumbing services with the amount of courtesy that we show all of our customers.
We believe that you work hard for your money and you put immense value in your home. This is why we want to take every opportunity to prove to you, our customers, that you have hired the right plumbers for the job. This is what you get with our company every time. Guaranteed!
This blog was posted by Your San Antonio Plumber