Threshold Drainage Grids By Auswave Products
Ever wished you could get rid of a raised door threshold? Say goodbye to these nasty trip hazards with Auswave products threshold drainage systems.
Door Thresholds are usually found at exterior openings. Their purpose is to remove any gaps between the bottom of the door and the floor, add rigidity to the frame and allow water to flow away from the outside. Raised thresholds can also be found at shower entrances. In either location, raised door thresholds can create accessibility issues. However, with a threshold drainage system, these issues are avoided, leaving a well-drained level plane.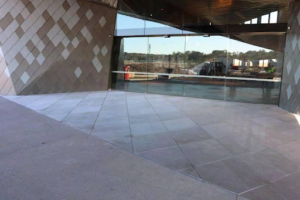 What Are Threshold Drains?
As ought to be obvious from the name, threshold drains are drains at thresholds. These linear drains follow the door line creating a well-drained, yet level threshold. While not appropriate for every doorway, this drainage system is commonly paired with sliding, bifold or fresh doors. More about Threshold Drainage Grids from Auswave here.
When it comes to showers, threshold drain is really more about the placement of a linear shower grate. A linear grate can be installed at the threshold, draining water from both the shower and bathroom beyond (with the correct floor grading preparation, or at the shower wall furthest from the door, gently sloping in one direction. Both options allow for a walk-in shower, or, wheel-in for that matter.
Other Advantages Of Threshold Grates
Threshold grates obviously get a big "thumbs-up" when it comes to accessibility, but their appeal is broader than that.
One popular use of threshold drains is to use a tile insert style grate, a drainage cover that features a narrow drainage aperture surrounding a tile "insert". This discreet drainage cover allows the tiler to use the same tile between the indoor (or in shower) space and the outdoor (or surrounding bathroom), the transition being a discrete drain with matching tiles. By doing this, not only is a physical obstacle removed but a visual one also. Threshold grates, therefore, can create a sense of expanse, bringing the "outdoor-in", or at the very least, maximize the appearance of a small space.
Have we got you "over the line"?
If you are keen to learn more about threshold drainage, Auswave Products' helpful team of drainage experts is ready to answer your questions. Find out more at
https://www.auswave.com.au/drainage/threshold/ or contact us on 1300 783 812.